Click to display the e-bike range calculator
E-bike range calculator
(Setting specific assistant mode, electro-technical state, battery age, ambient temperature, aerodynamics and driving technique could affect the overall range)
Apache Matto E7 is aimed at riders who seek a well-built and agile electric bike and are keen to ocassionaly take a trip through fields and forrests.
 
All Apache e-bikes in our E7 range have their design completely re-done and battery is now integrated within the frame providing very sleek look. Additional benefit of having a built-in battery is that it strenghtens the frame increasing the maximum load rating of up to 140kg.
Motor Bafang M400 with high capacity battery (LG 36V/17,5Ah), proven and reliable components Shimano Altus and 180mm break discs with 75mm suspension completes the package.
Apache Power Silent motor is equiped with hall sensors and powered by sinus flow current which results in lower runtime noise and better efficiency - greater range. It is possible to turn on off-road mode bypassing the power limiter. The brushless freerun with drivetrain from quality and reliable manufacture 8FUN has a runtime voltage of the motor is 36V with average power output of 250W.
By default the motor is compatible with standard cartrige instalations. On request we can supply variant modified for screw-on multiwheel. Please let us know by using order notes.
Compatibile with disk brakes as well as V-brakes by default
You can control your electric bike easily thanks to our high contrast LCD screen Apache Power Codac witth integrated controls and many useful functions. Screen is clear and mounted on the left side of handlebar. It features a built in USB port for your phone too.
Easy to use control buttons allow choosing level of assistance as well as flip between cyclo computer functions. Apart from choosen level there is also time, speed trip distance and battery status displayed on screen so you will be always kept up to date with all the information.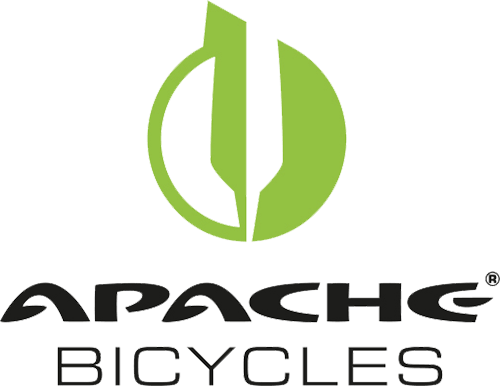 ---
We are specialists and we have a complete range of medium- and high-class e-bikes from the Czech brand APACHE BICYCLES. With each APACHE e-bike we offer a premium frame warranty, the first year of after-sales service for free, and perfect diagnostics for all drive technologies used. We are the main repair shop partner for APACHE BICYCLES. APACHE has a wide range of e-bikes for various uses, with several possible motor types - Bosch, Bafang and AP Silent. We also offer rebuilding and installation of hub and central sets and drives of the Apache Power System brand, including batteries and accessories.